We spent 18th and 19th of November in Millenium Hall in Rzeszow, where we took part in another competition. This time in a little wider team 😉
On Friday, girls thanks to UITM Rzeszow had possibility to train in wanderful sports hall in Kielnarowa. This is perfect place for skating, so Zosia, Marika and Klaudia used it well for last training session before event.
---
Saturday was dedicated to speed slalom and classic. Our junior girls did great job. Marika finished in Top 8 in speed slalom, beating her life record and Zosia after great performance took 2nd place in classic. What is more our coach Klaudia won gold medal in classic senior.
---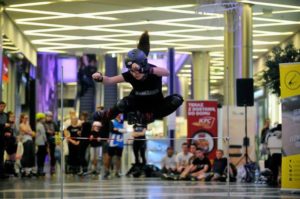 Sunday was dedicated to battle and jump. It was another good day, which brought another personal records, awesome runs and great atmosphere. Zosia took high 5th place in battle, after fighting hard till the last seconds. Marika did another personal record during that competition this time in jump and won gold medal. And Klaudia added another gold in battle senior. 

---
That was really successful competition, our girls did their really best! We are very proud and huge congratulations!