It's happening! The competition in Italy has given us a lot of excitement! As many as 8 Slalom Academy students took part in the 10th edition of the competition in Busto. We are very proud of our competitors! 💥 All of them did their best and it's hard to describe in words how proud we are of their work, performance and the attitude they represent 🤩 We are very pleased with the progress and group involvement 🥰.
We come back with success and new experience. Klaudia won gold in the classic showing her best run this season! In battle she got to the finals and also stood on the podium winning a bronze medal.
For Justyna (Tinka) it was the first 3 cones competition and despite the stress she did a fantastic job. She made her debut in the classic competition and starting at the beginning of the list she took 3rd place in the qualification group. In battle she managed to reach the semi-finals where she finally took 7th place. It was not easy, but determination and focus guaranteed success.
Abi after a very successful performance passed the qualification and for the first time in her career she had the opportunity to show her run once again in the final group, where she ended up on 11th position. In battle she also did her best and took 17th place.
Her younger sister Liwia finished the competition satisfied. She showed new technically difficult tricks combined with smooth freestyle, and after her runs she always received a thunderous applause from the audience.
For the first time this season Nadia performed in a classic competition with a new layout. The choice of music was a hit because it fits to her style perfectly.
Hania and Wiktoria showed very good and trained runs. From competition to competition we notice more and more confidence in both girls.
Wiktor can count his starts among the best in his career. In the classic he showed a great ride with flow and difficult elements, which guaranteed a promotion to the finals where he took 9th place. In battle he won the fight with himself and managed to get out of stress and panic. With each subsequent group he was doing better and better and reached the semi-finals, where he took 7th place. This valuable experience will definitely come in handy in the next battles as well as in everyday life.
For Maciek it was his debut in such a big competition and he did very well. During his trips he proved that hard work pays off. He presented great rides, in which there was no lack of new tricks.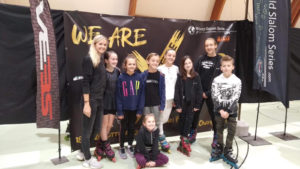 The results of our students:
Battle Junior:
7th place Justin Tęczar
17th place Abigajl Pelinko
17th place Nadia Jeziorek
17th place Liwia Pelinko
25th place Hania Lender
39th place Wictoria Uchman
7th place Wiktor Smosarski
19th place Maciek Tęczar
Classic:
9th place Wiktor Smosarski
11th place Abigajl Pelinko
17th place Liwia Pelinko
17th place Justin Tęczar
29th place Nadia Jeziorek
47th place Hanna Lender
Jump:
9th place Justin Tęczar
16th place Maciek Tęczar