Slalom Academy on the best Holiday competition – Conero Hero Battle

☀️

🏖
This year we flew to a holiday competition in Italy in a bigger Team 👫 Conero Hero Battle is undoubtedly the best event of the year and we always look forward to it. Italian climate, beautiful weather, picturesque views and friendly atmosphere guarantee a successful trip. In our opinion, this is the ideal opportunity to combine useful with pleasant and we always stay a little longer than the competition itself. This allows us to enjoy a perfect holiday. The competition plan is also very vacationary and includes relaxing on the beach in the morning and in the afternoon, and when there is a shade, there are starts.
---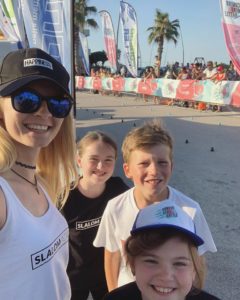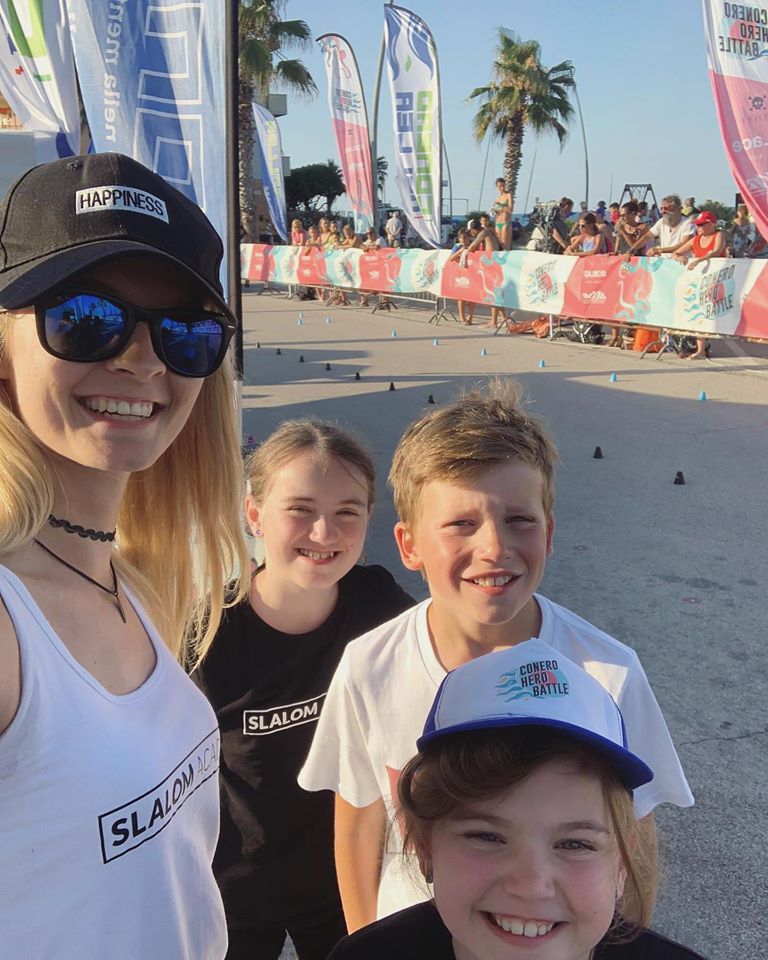 This year Slalom Academy was represented by 4 people from Abi, Liwia, Wiktor and Klaudia. On the first day there were slides and couples for us it was a day off, because we did not compete in these competitions. A short training to get used to the surface and then relax on the beach 🙂
Next day was dedicated to speed slalom. Klaudia was helping in judging and three students were fighting for the best times. It wasn't easy, but everyone managed and after successful starts we went for well deserved ice cream!
---
The most interesting day is definitely Saturday, because that's when the classic was held.
This competition is probably the most spectacular. Abi & Liwia were competing in the qualification. Both of them have passed the successful runs, which can be seen below. Unfortunately, Liwia did not manage to go further, but she definitely enchanted the audience! Everyone was cheering her  🙂
Abi showed a very good run and moved on! So she could present herself once again in the final. Happy and motivated to act she showed an even better run and took 8th place!
Wiktor, who is distinguished by his style and lightness, also presented himself wonderfully. Additionally, the song he chose fits his skating perfectly. Thanks to that everything creates a coherent whole. A very successful ride guaranteed Wiktor 5th place! So far this is his best result in his career at international competitions in this competition.
At the end it was time for the category of seniors, in which Klaudia took part. Despite a smooth ride she made some mistakes, but with a smile on her face she ended up on high 3rd place. "Definitely the biggest advantage and joy is the possibility to perform in front of such a large audience. Everyone is cheering and watching with curiosity. It is then that many people can learn about our discipline. And for me, it's motivating and very happy", says Klaudia.
---
Last day it was time for battle.
Our youngest competitor went through very nice and clean runs. As a result, Liwia took 17th place. Abi managed to move on to the next group and finally ended up in 9th place. Wiktor showed his best tricks and also finished 9th. Klaudia definitely and energetically drove her runs, which guaranteed her promotion to the final. There was a feeling of fatigue in the finals, but she still managed and fought for every combo. Our coach won in this competition, thus repeating the results from last year 🙂 Everyone did a great job and despite late hours of starts there was no lack of energy to try new tricks after the competition.
---
The holiday competition in Italy is a very successful one.
We did our best during the start, and after the competition we had time to rest and even go to the picturesque San Marino. To sum up, we spent a great time together 🤗🍨🌊 We can't wait for the next edition 🙂

Thank you @conero_roller for super-organization and hospitality! 🥰🙏💕 It is a pleasure to be here once again ☺️
Congratulations to all the competitors 🙌 and see you at the next competition 😄.